BIG TECH in America has been accused of trying to 'steal' the 2020 Presidential Election. 
Twitter has been routinely censored the Presidents tweets – despite the messages on the social media site being of historical importance, possibly breaking U.S. Laws. 
Most recently the social media juggernaut faced mass criticism after censoring a video that including Yale PhD's who were promoting the use of the anti-malaria drug hydroxychloroquine that Mr Trump has supported as a 'cure' for COVID-19.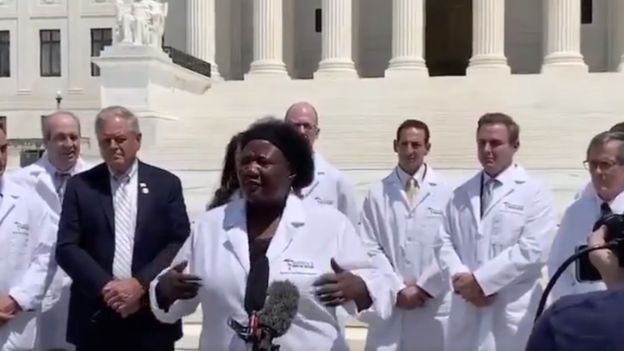 The group of Doctors billed as "America's Frontline Doctors" promoted it both as a preventative measure and as a cure for Covid-19 the BBC reported. 
Yet, Twitter, YouTube and Facebook all censored the clip due to the pro-China World Health Organization claiming "there is currently no proof" that hydroxychloroquine is effective as a treatment or prevents coronavirus – despite the WHO claiming that Coronavirus could not pass from human to human amid the Chinese epidemic.
"The virus has a cure, it's called hydroxychloroquine, zinc, and Zithromax," says one of the doctors in the video.
"You don't need masks. There is a cure. I know they don't want to open schools. No, you don't need people to be locked down. There is prevention and there is a cure." said the group.
Twitter also suspended the president's son Donald Trump Jnr for posting the clip on his own Twitter feed. 
Twitter told the BBC: "Tweets with the video are in violation of our Covid-19 misinformation policy. We are taking action in line with our policy here."
"We've removed this video for sharing false information about cures and treatments for Covid-19," Facebook told the BBC, confirming it was also removing other versions of the video."
YouTube told the BBC: "We have removed the video for violating our Covid-19 misinformation policies."
GOOGLE

CENSORS

PRO-TRUMP NEWS 
GOOGLE has also accused of censoring pro-Trump news from the media outlet Breitbart. 
Alum Bokari of Breitbart revealed that following the shock result of the 2016 election, top Google executives, including Sundar Pichai, Sergey Brin, and Kent Walker, lamented President Trump's victory, comparing Trump voters to "extremists" and discussing their desire to make Trump's election and the populist movement a "blip" in history."
Now, in 2020 as the race heats up between Mr Trump and his Democratic rival Joe Biden, Google is trying to supress Breitbart and pro-Trump news. 
Breitbart claims: "There are several ways in which Google is interfering in the 2020 election, but this article will focus primarily on one of them: political search bias." 
"Google Has Been Purging Breitbart Content from Search Results Since the 2016 Election."
"Search visibility is a key industry measure of how findable a publisher's content is in Google search. New data shows that Google has suppressed Breitbart's search visibility by 99.7 percent since 2016."
"On April 4, 2016, Breitbart ranked in the top ten search positions (i.e., on the first page of Google search results) for 355 key search terms; but now, as of July 20, 2020, Breitbart ranks in the top ten search positions for only one search term. And, on April 4, 2016, Breitbart ranked in the top 100 search positions for 16,820 key search terms; but now, as of July 20, 2020, Breitbart ranks in the top ten search positions for only 55 search terms."
"Moreover, organic Google search traffic to Breitbart (measured by unique visitors) is down 63 percent when comparing the first half of 2016 with the first half of 2020."
"The following chart shows the visibility of Breitbart content in the Google search engine since 2011. It shows that Google has nearly eliminated Breitbart content from its search results."