by Jordan James 
DAN Wootton has fired back at Matthew Wright after the former daytime telly star claimed GB News would be "off air within a year", Politicalite can exclusively reveal. 
Wright, 55 who fronted The Wright Stuff on Channel 5 for eighteen years before quitting in a 'free-speech row' in 2018 claimed that the new channel wouldn't beat his Channel 5 ratings and swiped at Wootton who was a regular guest on his C5 show. 
The Sun Showbiz King hit back telling Politicalite: "He is truly awful!"
He added on Wrights hypocrisy at the new right-wing channel: "He was happy to work for Murdoch on talkRADIO!" 
In a fiery exchange on Twitter, in which the shock jock branded Politicalite a "moron", Wrighty claimed: "it'll be gone in a year" after news broke that Sun stalwart Dan Wootton was quitting Rupert Murdoch's News Corp to work for the hottest network to hit British TV in years. 
Wottoon said in an official statement:"After seven life-changing years at The Sun and, more recently, talkRADIO, I have made the very tough decision to leave News UK. Later this year, I'm joining the on air team of GB News and MailOnline as a columnist. And I'll still break scoops too, of course!"
"The opportunity to join [Andrew Neil] at GB News was too good to pass up. I feel passionately about GB News' bold vision to bring a fresh approach to television news and debate that embraces all voices and opinions across Britain."
Matthew Wright, however, who hosted the controversial Channel 5 show The Wright Stuff from 2002-2018 says GB news won't last a year, and even branded Politicalite a "Moron" for claiming the right-wing channel would be a massive success and beat his Channel 5 ratings. 
https://twitter.com/mrjordanjames_/status/1354878703571001358
It hasn't launched yet you moron – but it won't

— Matthew Wright (@Matthew_Wright) January 28, 2021
The opinionated C5 show left Wright with PTSD and he told The Sun a few years back that "It's difficult to deal with." 
However, it later turned out Wright quit the show after a row over transgender issues being debated on the show.
The Sun claimed: "The host refused to publicly apologise for a remark made by a celebrity guest about a transgender campaigner being born a boy."
"He was reportedly warned that he would not be allowed on the air unless he made an apology for the comment on the next day's programme."
A show source told The Sun: "Matthew had enough… he wanted out.
"When he refused to back down and issue an apology, the show bosses tried to force him to take a week off to reconsider. He told them he wasn't going to do that and tensions reached boiling point."
It wasn't the first time Wright had made the headlines and caused a storm, in the early years of The Wright Stuff he named then This Morning host John Leslie as the alleged rapist of telly star Ulrika Jonsson.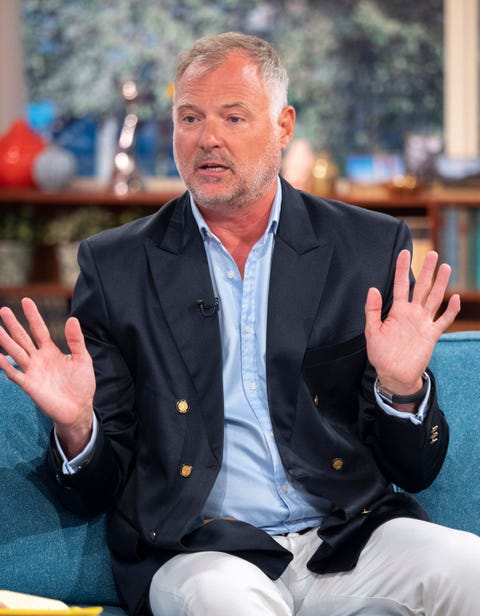 Wright later apologised for the 'gaffe', Leslie was cleared.
The producers behind GB News vow to "disrupt" Britain's tired and leftie TV news media landscape with bold, opinionated and right-wing content to send the liberal luvvies running for their gender neutral LGBTQXYZ+ safe spaces. 
THE GB DISRUPTORS
POLITICALITE revealed on Friday night that GB News would be available on Freeview, Sky and Virgin, the channel later revealed its deal with a carrier to reach a staggering 96% of British homes. 
Major GB News announcement: Long-term deal with Arqiva will deliver Britain's News Channel to all major UK platforms including Freeview, Sky, Virgin Media, YouView and Freesat, reaching over 96% of British households. Boom! pic.twitter.com/URpalTpEgW

— Dan Wootton (@danwootton) January 29, 2021
The network will also have hot social and digital content and will be fronted by ex-BBC veteran Andrew Neil, who is calling for "disruptors and innovators" to help GB "reshape television and digital news".
The channel is reportedly trying to grab LBC host Nick Ferrari and the Prime Minister's sister and ex-Celebrity Big Brother star Rachel Johnson along with TalkRADIO breakfast firebrand Julia Hartley-Brewer. 
The news network has been dubbed "The British Fox-News" by telly critics and has already been promoted by Nigel Farage and rebellious Reclaim leader Laurence Fox on Twitter. 
Will the British Fox News beat Wrighty? 
Of course it will!