WHAT would you do to win 45.6 billion that could pull you out of a life of misery? Would you sell out your bestie? Would you watch a cousin die for a chance to win? .. If you've ever pondered that question, then Netflix's binge-worthy 'Squid Game' – a fictionalized mysterious and deadly survival gameshow might be for you.
The South Korean horror that's akin to Charlie Brooker's dystopian Dead Set (2008) sees 456 debt-ridden players take part in a twisted 'Game Show' to compete for a grand prize of 45 Billion Won (£28bn, $38bn) but to win, they must survive six Children's-type games…
SPOILER ALERT*
…but the consequence of losing is death. Who will be the winner, and what is the purpose behind this game?
The games deadly process of elimination is what the producers of reality TV would opt for – if there were no laws preventing mass murder on National TV. It all feels very Big Brother and shows the original 'voyeuristic reality dystopia' concept can live on in the Netflix age.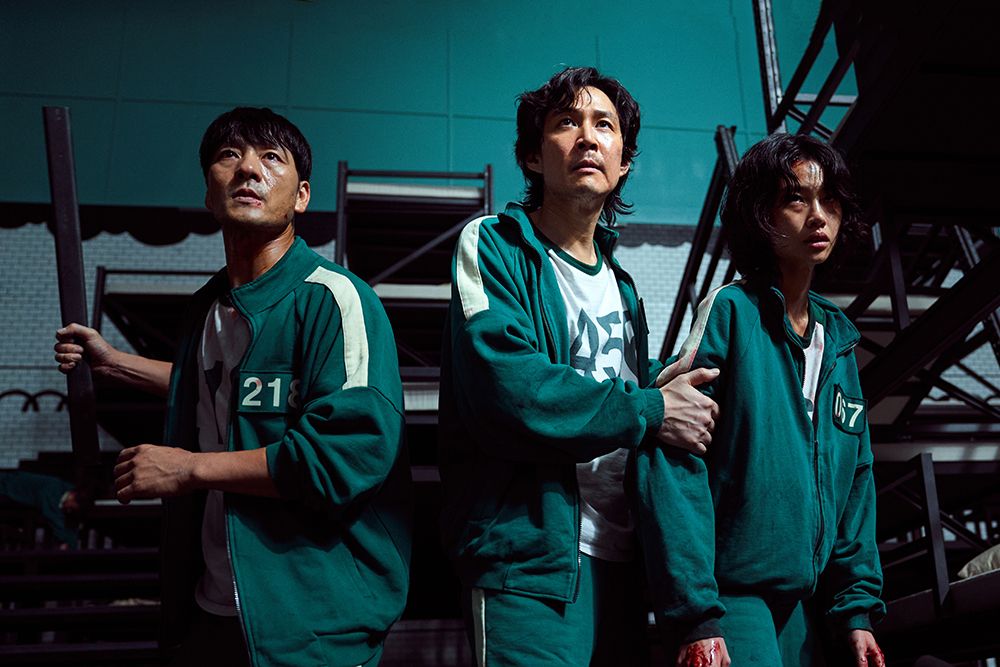 Squid Game has topped the global streaming charts and it's like nothing you've ever seen before. In the post-Covid world, the dark themes of poverty, economic ruin, mass control, traffic light systems and instant death make Squid Game feel all to the familiar – albeit on a more 'Hollywood' scale.
The series is truly gripping television that makes everything on legacy media like the BBC and ITV look archaic. This is a show that could only work in the internet age on Netflix, or Channel 4.
It's a bright, brash and all-out Capitalist assault on the viewer. It explores the class divides and economic disparities exposed in all nations amid the COVID-19 pandemic.
One player, when given the option to stay and compete for the prize or leave with nothing claims: "It's the same out there than it is in here. I don't stand a chance out there, in here; I do." and as many feel the pinch of the COVID-19 recession and 'Great Reset' the show makes viewers assess the old economic system.
The South Korean epic explores how a single democratic vote can divide once unified groups (Brexit, Trump) and makes us realise that in the end, The Capitalist rat race is just a giant game.
Squid Game also makes the viewer assess the pro-Western view of the two Korea's – and makes one see the darker side to the often-hailed South Korean Capitalist system, that is in fact for many of the left-behind – harsher than North Korean communism, but Capitalism, of course – as seen in Squid Game – always has the opportunity – if you've got enough balls to stamp on your opponent and let them die to get all important prize-money.