MET Police have denied that there is a 'Two-Tier' policing policy in the capital on political protests after the controversial anti-Islam activist Tommy Robinson was arrested on Sunday afternoon at speakers corner.
Politicalite questioned the Metropolitan Police as to why an event that protested President Emanuel Macron over his comments on Radical Muslims went ahead and why it's leaders were not nicked on Friday, yet Tommy was arrested in Hyde Park at a location famed for its Free-Speech.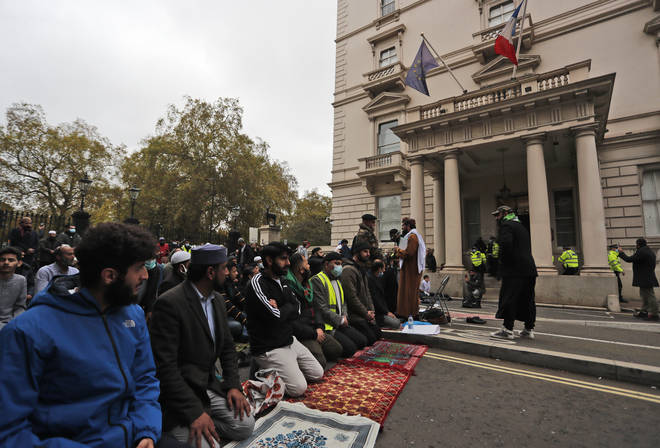 The Met told Politicalite: "There were 3 arrests at the French Embassy protest on Friday."
"Those demonstrating outside the French Embassy dispersed."
"Officers engaged and encouraged those protesting to disperse, the majority left without issue. Those who didn't comply were dealt with by enforcement."
"Officers made a total of three arrests. Two people for Covid breaches and one for possession of pyrotechnics."
"13 people have also reported for consideration of a fixed penalty notice."
TOMMY NICKED OVER HYDE PARK RALLY
TOMMY Robinson was arrested by the Metropolitan Police on Sunday for holding an unauthorised event amid COVID-19 restrictions, Politicalite can exclusively reveal.
Met Police sources told Politicalite that the controversial activist was arrested for holding a rally in London's Hyde Park.
The Met told Politicalite: "Officers were policing an assembly at speakers corner, Hyde Park on Sunday, 1 November."
"At 14:44hrs a man aged in his 30's was arrested under the coronavirus regulations for holding or being involved in the holding of the event."
WATCH: Moment the controversial Anti-Islam activist Tommy Robinson was arrested in London's Speakers Corner. pic.twitter.com/Tg5dkowW0B

— Politicalite (@politicalite) November 1, 2020
"He has been taken to police custody."
The controversial activist told fans on a video that he was arrested having an offensive weapon.
In the video posted online Robinson, whose real name is Stephen Yaxley Lennon is heard shouting: "I've been arrested for an offensive weapon, I've got nothing on me".
He added: "They're stitching me up".
"What are you doing? What are you doing" the Activist shouts at Met Police cops.
"Arrested for what? arrested for what?, You're breaking my f*cking arm".
"I haven't done anything wrong." shouts Tommy."
More follows.