A BRITISH Lives Matter activist has told Politicalite that he was attacked by Antifa thugs at a rally for Veterans in Nottingham today simply for asking if All Lives Mattered. 
Hundreds of supporters turned out in Nottingham with the aim of the rally was to highlight 'veterans and children and to bring awareness of the plight of veterans'.
Rikki Doolan – who leads the British Lives Matter group claimed he was 'punched' and 'attacked' by Antifa thugs dressed in black and waving Antifa flags.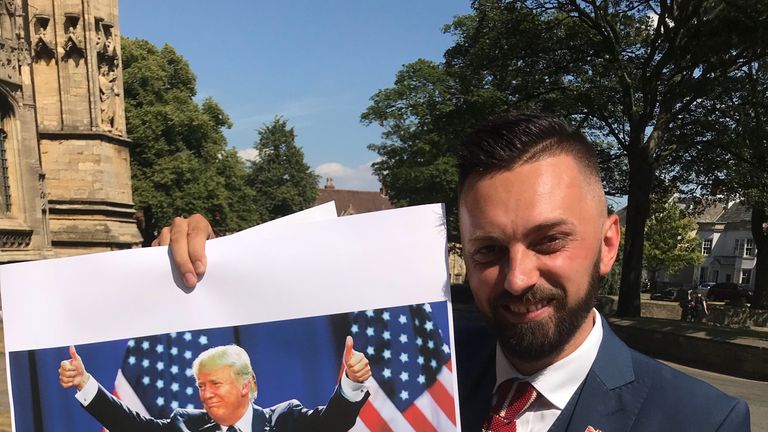 He asked the group of Antifa thugs – who appeared to be teenage males why they were at the protest in support of Children and Veterans.
One thug responded: "To tell you to f*ck off"
Another younger plastic gangster replied to Doolan "To tell thugs like you from British Lives Matter to f*ck off."
"You're carrying racist leaflets" said one member of the Antifa gang.
He asked the group: "Are you not British? So your life matters"
The Antifa member replied: "Why don't you fuck off".
WATCH: DOOLAN MOBBED BY ANTIFA THUGS
Doolan said: "Britian is made up of many different races. It's about all races, not one race."
An older man shouted: "Get the f*ck out of it you c*nt"
A police officer told Rikki that he was "antagonising the crowd" by asking legitimate questions to the Antifa thugs supporting the left-wing Anarchists who are allegedly funded by the Billionaire George Soros.
The Police officer asks Doolan to move away adding: "I'm asking you to move away please."
Another Antifa member told Rikki to "F*ck off you slick cunt" to which he responded "I'll take slick., but I won't take racists."
He added: "There's nothing racist about British Lives Matter"
"Whether you are white or black or brown, all British Lives Matter."
The Police said he was antagonising the crowd for telling the Antifa group that All Lives Matter".
Following his attack by the thugs, Doolan told Politicalite: "It's disturbing to experience political violence on our streets, but what we have to do as a nation is to get to the truth of the situation, not the false narratives."
"Today's antagonising and violence came from the left wing counter protesters and the Notts police only."
"We as the British people must stand together no matter the race or political lean."
"We must stand together and stop identity politics, and blanket group judgement."
"We must stop it and be judged on individual merit, grouped under one identity – the people of Britain. There is a real far right, and they are the actual racists."
"We encountered them in my recent BRLM debate. The government and MSM must watch out, deal with groups like them, and stop wrongfully insulting centre right leaning Partriots by calling them far right, racists or facists."
"Antifa are a huge problem in this nation. They are brainwashing young kids and turning them into political pawns of violence."
"They are a violent terrorist organisation, they should be classed as such in Britain and stamped out quickly."
A Nottinghamshire Police spokesman said that there were some minor disruptions which were dealt with quickly but no arrests were made and the protest went smoothly.