A WOMAN on the front page of major newspapers today after being pinned to the ground by Metropolitan Police at a vigil for Sarah Everard is an actress, Politicalite can reveal. 
Patsy Stevenson, 25 was arrested by Police in Clapham Common and claims to be a physics student at Royal Holloway. 
Politicalite can today reveal that Stevenson is an actress with a profile on CastingNow who describes herself as an Actor, Presenter, Model Dancer, Entertainer and Extra from Southend-on-Sea. 
She also claimed to have travelled from Egham, Surrey for the vigil, despite living in South End on Sea. 
She told reporters: "I was just standing there at the … told Counterfire: "I was arrested by police for standing there. I wasn't doing anything, they threw me to the floor."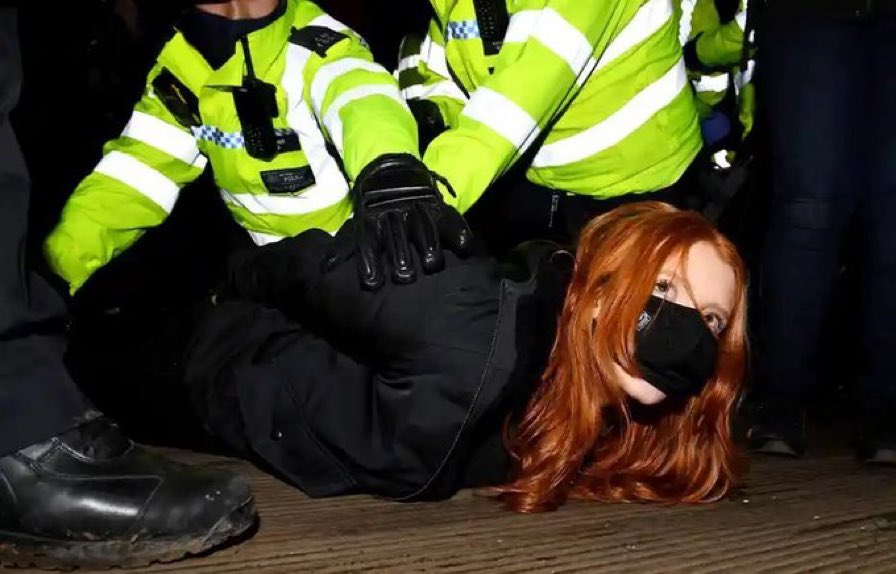 "They have pictures of me on the floor being arrested. I'm 5ft 2 and I weigh nothing."
She said: ""Several police were on my back trying to arrest me. They arrested me in cuffs and dragged me away surrounded by 10 police officers.
"When I got in the van they said 'all we need is your name and arrest and then we'll let you go with a fine', so I don't see the point of the arrest to be honest."
KAT PR STUNT
The shock revelation of Patsy's acting career has led social media users to claim the media is 'manufacturing outrage' to divert attention away from the Royal race row. 
The Duchess of Cambridge was also seen at the vigil for Sarah Everard yesterday and has been accused of using the vigil in a 'PR stunt' yesterday. 
Kate as slammed on social media last night after being accused of using the brutal murder of Sarah Everard to boost the image of the Royal Family following the Royal Race row.
Kate visited the memorial in South London for Sarah Everard, close to where the 33-year-old went missing but the move was seen as a 'calculated' PR stunt by many in Twitter.
Sunday Times best selling author Mikey Walsh said: "So The Police hung back tonight, just long enough for the Duchess to get her "Secret" photo op, then they moved in to slam girls heads to the ground."
"And GUESS Who's On the Front Page of Every UK Paper tomorrow!… My GOD this country is run by utter shameless ***."added Mikey.