THE DAILY Mail has been slammed by its own readers and followers online after the paper smeared a British lad who was part of a group of sixty people who organised the 'White Lives Matter Burnley' banner stunt over the Ethiad Stadium on Monday, despite no criminal offences being committed.
The Daily Mail – that was recently crowned Britain's Number One selling paper orchestrated a smear campaign against Jake Hepple, due to his political beliefs. 
The paper scowered Jake and his girlfriend's social media feeds to find 'offensive' tweets, leading to his engineering firm to fire him. 
Jake, 31 is a typical British bloke and openly supported the controversial right-wing activist Tommy Robinson. 
Defiant Jake said he would not apologise and said: "'I'm not racist, I'd do it all again".
Hepple was dismissed from his job as a welder by Paradigm Precision, and some legal experts say he could cash-in in an unfair dismissal case.
Jake, 24 told the Mail 'I'm not racist' and revealed Lancashire Police paid him a visit, for exercising his right to free speech.
Lancs Police said yesterday that no offence had been committed and offered Hepple Police protection due to alleged threats he could face.
His firm, Paradigm Precision told the Daily Mail the company 'did not condone or tolerate racism in any form', despite Hepple denying he was a racist, despite historic tweets. 
Hepple told the Mail "he did not regret the stunt, and tried to excuse his use of the word P*** online by saying he sometimes gets 'a bit coked up and uses offensive language'." 
"I'm not racist. I know people are trying to make out to be one but I'm not. I've got lots of Black and Asian friends and this banner was actually inspired by the Black Lives Movement."
"We were not trying to offend the movement or black people. I believe that it's also important to acknowledge that white lives matter too. That's all we were trying to say."
His girlfriend Megan Rambadt, 21, has also faced criticism for some of her racist social media posts and been suspended from her job as a beautician. 
The Daily Mail is showing major hypocrisy over its coverage of the banner stunt – the Mail used racism and migrants to sell papers for years. 
The Mail once supported Nazi Germany in the 1930s and the paper claimed that Hitler "represent[ed] the birth of Germany as a nation" and even 'supported the Blackshirts'.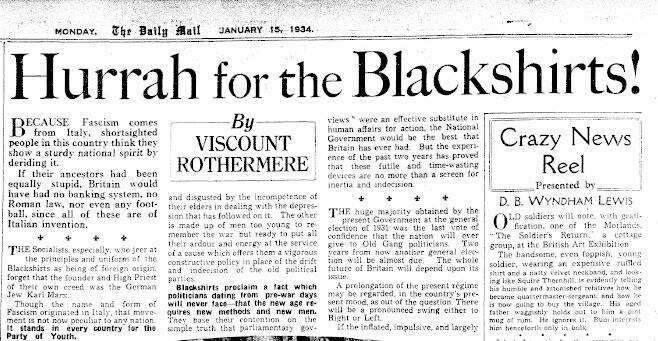 This was at a time when Hitler had made clear his hatred of Jews and belief in racial supremacy in his book Mein Kampf reported The Press Gazzette. 
The Mail was rewarded with exclusive access, publishing several interviews with Hitler throughout the 1930s.
The paper has also inflamed Britain's race tensions with hundreds of 'racist' front pages against migrants and Muslims.