SWEDISH furniture giant Ikea has pulled advertising from Britain's brand new start-up news network GB News after left-wing Twitter mobs bombarded the companies social media accounts. 
GB News – a fair and balanced network has sent the left into a tailspin in the past few days despite only launching on Sunday. 
Yet, Ikea who knowingly purchased advertising with GB News, according to GB insiders; told customers: "IKEA has not knowingly advertised on GB News." 
"We have safeguards in place to prevent our advertising from appearing on platforms that are not in line with our humanistic values and vision to side with the many people." 
The response from Ikea was branded "hypocritical". 
Not only does the firm often charge a whopping £50 delivery fee for its products – the company has been embroiled in a series of anti-Humanistic issues from spying on staff to removing women from its Saudi Arabia catalogue. 
The firm was ordered to pay a fine of over £860,000 after it was found guilty of spying on staff in France.
Ikea France used private detectives and police officers to collect staff's private data, the BBC reported. 
This included illegally accessing their criminal records in order to vet applicants for jobs.
The Ingka group – which owns most of Ikea's stores around the world – has apologised and condemned the practices.
In a statement, Ikea said it had "implemented a major action plan to prevent this from happening again".
On Tuesday former head of risk Jean-François Paris was given an 18-month suspended sentence and a €10,000 fine. 
In 2012, the Humanistic firm apologised for airbrushing images of women from the version of its catalogue in Saudi Arabia.
One picture revealed a family apparently getting ready for bed, with a young boy brushing his teeth in the bathroom. However, a pyjama-clad woman standing next to the boy is missing from the Saudi version.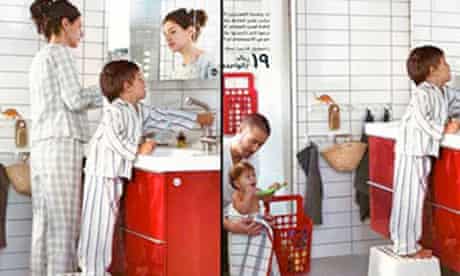 Another picture of five women dining has been removed in the Saudi edition.
Ikea released a statement expressing regret over the issue, saying: "We should have reacted and realised that excluding women from the Saudi Arabian version of the catalogue is in conflict with the Ikea Group values."
Women appear only infrequently in Saudi advertising, mostly on Saudi-owned television channels that show women in long dresses, with scarves covering their hair and long sleeves. In imported magazines, censors black out many parts of a woman's body including arms, legs and chest."
Politicalite contacted Ikea for comment but received no reply.