FRAMING Britney Spears is set to air in the UK tomorrow after smashing streaming records in America. 
The New York Times documentary will be shown on Sky Documentaries in the UK tomorrow night (Tuesday 16th Feb) at 9pm and it will also be available to stream on Sky Q, Sky+, those with an NOW TV entertainment pass. 
The documentary focuses on "the meteoric rise and disturbing fall of Britney Spears" and is "A re-examination of her career and a new assessment of the movement rallying against her court-mandated conservatorship capture the unsavoury dimensions of the American pop-star machine."
FREE BRITNEY, B*TCH
Britney, one of the nineties most iconic pop stars behind the hit songs such as Oops! I Did It Again and Gimme More is also receiving a huge amount of support on social media from fans and celebs off the back of the doc that was originally aired on US cable channel FX last week. 
The FX documentary adds fuel to the claims that Britney's father is"manipulating and unfairly profiting" off his daughter under the guise of Mental Health treatment following her 2007 mental health episode. 
The pop sensations fans claim that the pop star is 'trapped' under the legal agreement that forces Brit to pay a whopping $100k-a-year to 'Toxic' Dad Jamie Spears. 
She's holed up inside her $7.4m California home and Britney's Army say she's been sending out 'secret messages' in bizarre dance videos on Instagram to let the world know she is being abused. 
Her father Jamie has had total control over his superstar daughters life under a 'conservatorship' that claims she is 'incapable' of making her own decisions following her hugely public breakdown in 2008. 
It is true that Britney has little control over her finances or the things she can do in her life. Britney has released new music since 2008, she's been on a world tour and has even appeared as a judge on shows like the US version of The X Factor, but she is alleged only to receive a $1,500 a week allowance and is forced to pay $1.1 million dollars in fees for the conservatorship to continue, including paying her father a solid $100k+ salary and paying a lawyer she isn't allowed to choose. 
"She is allowed an allowance of around $1,500 a week for bills, shopping and essentials. Her net worth is $250 million."  say USA Today. 
Despite this, Britney lives in a $7.4 million mansion in California and has been holed up there since the start of the pandemic with her long-term boyfriend Sam Asghari who branded Britney's father a "total d*ck, according to Perez Hilton.
"Now it's important for people to understand that I have zero respect for someone trying to control our relationship and constantly throwing obstacles in our way. In my opinion, Jamie [Spears] is a total d**k." said Sam. 
He added: "I won't be going into details because I've always respected our privacy, but at the same time, I didn't come to this country to not be able to express my opinion and freedom."
Even USA Today was forced to update an article that denied claims the #FreeBritney movement was a 'conspiracy' after Britney appeared to get behind the Free Britney movement.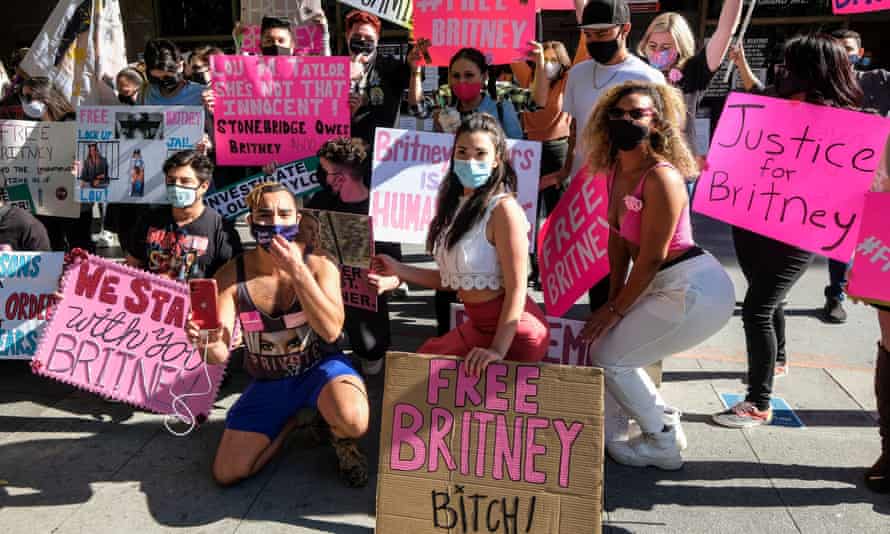 TMZ reported in 2019 that Britney was "committed to a mental health facility a month ago against her will and also forced her to take drugs." by her father despite Jamie Spears having no power under the conservatorship to do this. 
Jamie Spears branded the #FreeBritney movement a "conspiracy theory" and told The New York Post that the campaign was "a joke."
"All these conspiracy theorists don't know anything. The world don't have a clue," he said. 
"It's up to the court of California to decide what's best for my daughter. It's no one else's business."
"I have to report every nickel and dime spent to the court every year," he said. 
"How the hell would I steal something?"
Britney also addressed the claims on Instagram late last year but fans allege that the star was 'forced' to deny anything was wrong' claiming she appeared to be shaking on camera.
The court case to free Britney from her conservatorship was reviewed in a recent court hearing last week. 
Jamie Spears will remain co-conservator but the judge denied a request by Britney Spears' father to exert greater control over her finances.
More follows.