BBC One soap opera EastEnders has spunked thousands of pounds worth of taxpayers cash on a 'woke' mural on its set, to pander to the anti-Jewish marxist Black Lives Matter Mob, Politicalite can reveal. 
The corporation funded by hard-up British taxpayers splashed an alleged 'four figure' amount on the Mural according to sources, but the BBC refused to comment on the costs of the mural when approached by Politicalite. 
The Black Lives Matter motif was painted by artist Dreph and will be a permanent fixture on the BBC soap when it returns to screens following its hiatus due to the Coronavirus pandemic. 
EastEnders Executive producer Jon Sen told the BBC it was a "timely addition… that reflects events taking place in the real world".
"The mural was painted directly onto the side wall of the Beale family's house over several days."
The BBC soap is also currently half-way through the re-building of a brand new outdoor set at it's Elstree Studios in Borehamwood, Hertfordshire.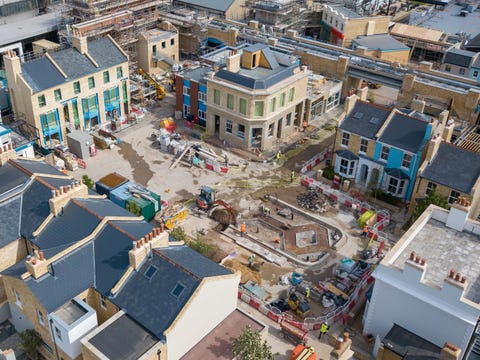 The new digs have gone 'millions of pounds over budget' and five years late, the cost of the new outdoor set is reported to be around £30m. 
The BBC also spent £44,000 looking at brick samples for the new set. 
A source told Politicalite:"It is worth pointing out that the reason Albert Square needs to be rebuilt is that the original set consists mostly of steel frames with plywood and plastic facings."
" This was all intended to last 2 or 3 years when it was built in 1984, in fact it has just about lasted more than 33 years."
"Much of the set is in very poor condition and is dangerous in high winds – panels have blown off and some of the steelwork is very rusty. Scenes have had to be restaged as the backgrounds looked so bad. In fact, the cameras on the outdoor set are switched to SD in order to reduce detail so viewers see fewer of the tell-tale faults."
"Obviously the set is also costing a great deal to maintain and keep as safe as possible."
Plans previously stated that the Front Lot should be finished for March 2021, with the Back Lot of Walford locations set to be completed for May 2023.
Explaining the decision to build a new set, the BBC said back in 2018: "The set of EastEnders was built in 1984 and only intended for use for two years."
"Over 30 years later, the show remains one of the BBC's flagship programmes and yet is filming from a set that is no longer fit for purpose. The new set will be suitable for HD filming for the first time and extend Walford to better reflect modern East End London."
The BBC told Politicalite: "We never comment on production costs. EastEnders is a BBC Studios production for BBC One."