KRIK – A JOURNALIST had her mobile phone confiscated by associates of the son of Serbian President Aleksandar Vučić after snapping him in the company of alleged 'hooligans', it has been claimed. 
The female journalist called Bojana Pavlović in a report by KRIK claimed that she had her phone took away after she had photographed Danilo Vučić, the son of the President of Serbia, watching a football match together with Aleksandar Vidojević – an alleged hooligan close to the Kavač criminal clan.
"This happened in the presence of three police officers, who did not react. " said Bojana.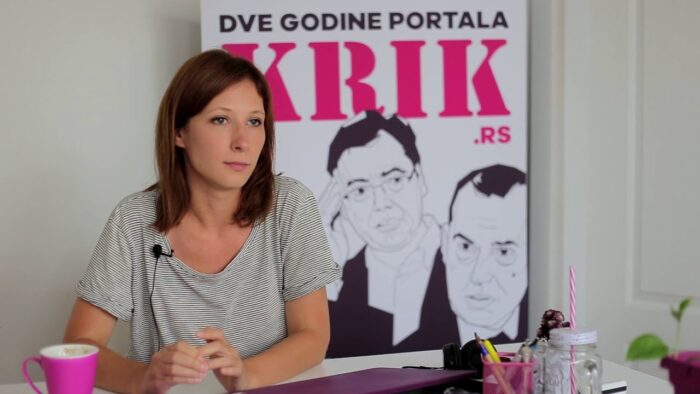 "After a short discussion and with Vidojević's approval, Bojana's phone was returned to her."
"KRIK demands from the Serbian Ministry of Internal Affairs to urgently determine and disclose who has confiscated our reporter's equipment."
"There was Danilo Vučić, sitting with Aleksandar Vidojević and a several other men, they were watching TV broadcast of the football match between "Red Star" and "Partizan". Vidojević is a member of the Partizan's fan (hooligan) group "Janissaries" and he is currently on trial for demolishing a night club with other hooligans from this group. He is also listed in the Serbian police database as a member of the Montenegrin Kavač clan." reported KRIK. 
Among those gathered, KRIK journalist also recognized Nemanja Srećković, hooligan from the same group.
Bojana photographed them from the street through the window of the café and left. She was soon stopped by three men who introduced themselves as police officers. Pavlović has showed them her press card, but they told her that she must wait for the police patrol.
They demanded that she deletes the photos from the phone because, as they said, "they may have problems". Then two more men approached, but they did not act as police officers, nor did they introduce themselves.
Our journalist asked to call the editor, but one of the newcomers took the phone from her hand, to which the police did not react. She asked persistently why her equipment was taken away, the man who took it responded that he does not have to explain anything, because he is a "civilian".
Vidojević and Srećković then approached the group, and the police officers left. Vidojević told the person who confiscated the phone to return it and it was done. He then told Bojana that KRIK is endangering his life by publishing articles about him. After that they left.
THE SERBRANOS 
A LEADING Politician in Serbia has accused the Eastern European nations President of being involved in an 'alarming' Chinese drugs conspiracy, Politicalite can exclusively reveal.
Nikola Sandulovic who claimed that he was 'poisoned' by Serbian state forces last month after speaking out about faulty Chinese Coronavirus tests told Politicalite that the country was "without money" and was involved in drugs business.
He told us that he has alerted the United States of 'major drugs offences' allegedly committed by President Aleksandar Vučić and his brother Andrej Vučić.
The Republican boss who is making a successful recovery following his assassination attempt alleged that Vucic and his Brother were involved in the trade of White Heroin, Meth, LSD and Amphetamines. Politicalite cannot verify the claims.
In April 2019 Andrej was pictured drinking and laughing with one of Kosovo's most notorious underworld figures in a Belgrade restaurant.