THE most inspiring stories are often those where adversity is overcome by the everyday ordinary, and Netflix' new limited series 'Maid' does just that -exploring the tough world of Mental Health, Poverty and Domestic Abuse in America, but the issues come close to home, and shows why the UK was right to tackle one of the greatest social issues facing the UK.
Inspired by the New York Times best-selling memoir, Maid: Hard Work, Low Pay, and a Mother's Will to Survive by Stephanie Land, MAID – starring Margaret Qualley, Andie MacDowell and Nick Robinson, follows the story of Alex, a single mother who turns to housecleaning to — barely — make ends meet.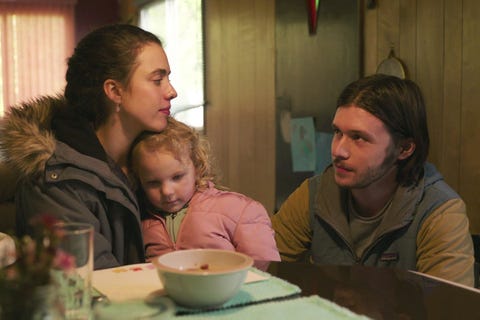 Official Government figures reveal there are some 2.3 million victims of domestic abuse a year aged 16 to 74 in the UK alone (two-thirds of whom are women) and more than one in ten of all offences recorded by the police are domestic abuse-related.
In Netflix's series – created by Warner Bros, 'Alex' escapes an abusive relationship and overcomes homelessness to create a better life for her daughter, Maddy, yet the series shows all the characters – including her abusive partner Sean – in a realistic way that humanizes both parties, revealing the childhood traumas of both Alex and Sean that lead to Domestic Abuse.
The show is also produced by the creators of Shameless and is an inspiring and raw look into the difficult world of America's failed Welfare system seen through the emotional yet humorous lens of a desperate but determined woman, this series is a raw and inspiring exploration of a mother's resilience.
MAID deals with Addiction, Mental Health, Poverty and Welfare in ways rarely seen on TV – and highlights the many challenges that lawmakers must face to make systems created to protect the most vulnerable work better for those they serve – and the British Government is doing something about one of the biggest social issues facing working-class people.
In December 2019 the Government was elected with a manifesto commitment to "support all victims of domestic abuse and pass the Domestic Abuse Bill" originally introduced in the last Parliament.
The cost of domestic abuse is estimated to be approximately £66bn for victims of domestic abuse in England and Wales for the year ending March 2017. and the Government has allocated more than £300 million per year via the Domestic Abuse act once fully implemented.
The act aims to ensure that victims have the confidence to come forward and report their experiences, safe in the knowledge that the state will do everything it can, both to support them and their children and pursue the abuser.
Speaking of the bill – Victoria Atkins MP, the former Minister for Safeguarding vowed to strengthen the support for victims of abuse by statutory agencies.
"Domestic abuse is an abhorrent crime perpetrated on victims and their families by those who should love and care for them."
"This landmark Bill will help transform the response to domestic abuse, helping to prevent offending, protect victims and ensure they have the support they need."
MAID is available to stream on Netflix.