IRAN is just ten weeks away from acquiring key material to build a devastating nuclear bomb, it has been claimed. 
The shock warning came as tensions over Iranian oil tanker hijackings boiled over after the terrorist state attacked a ship in a deadly drone strike that left two people, including a British security guard dead. 
On Friday, the UN Security Council met to decide on appropriate action against Iran – that is now led by a new hardline Islamist leader, President Ebrahim Raisi who was sworn in last week. 
Western Allies including Israel, the United States and the United Kingdom have lobbied the UN Security Council to take action the deadly tanker attack.
Israeli Defense Minister Benny Gantz issued a dire warning about Iran's nuclear capabilities and said Israel "was prepared to take action against the terrorist state." 
"Iran… is only around 10 weeks away from acquiring weapons-grade materials necessary for a nuclear weapon," Gantz added.
"Now is the time for deeds – words are not enough," he added. "It is time for diplomatic, economic and even military deeds."
Tehran is accused of enriching uranium – a key component in a weapons-grade Nuke, that has now reached a staggering 90-per-cent pure grade, up from 60 per cent in April.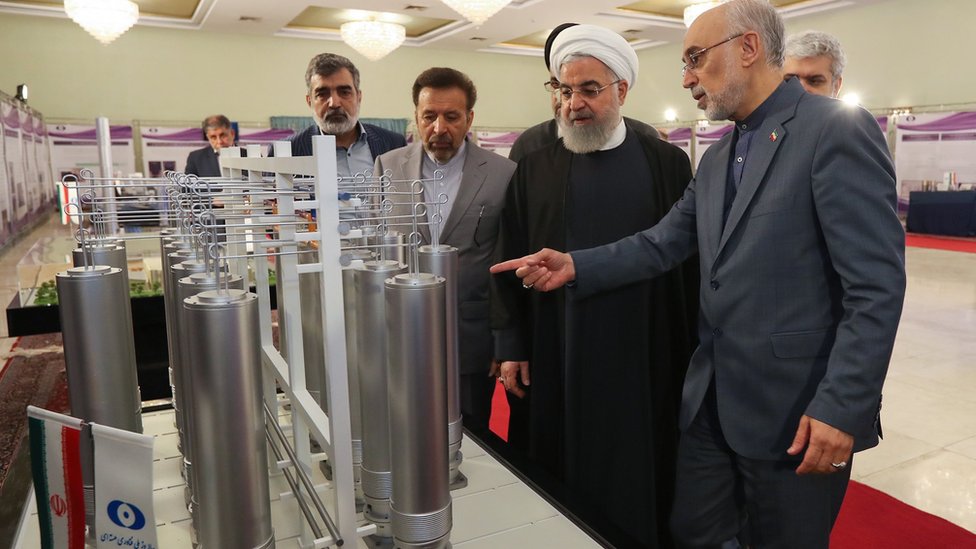 In his first speech as President, Islamist nut Raisi said he said the "power of the Islamic Republic in the region brings about security" but that force would be used only against "threats made by dominating powers and tyrants".
He denied the reports of a nuke bomb and said Iran "was not attempting to create forbidden nuclear weapons" despite dire warnings by Israel that it was "about ten weeks away" from acquiring the materials for the warhead.
Speaking to The Telegraph, an Israeli official – who monitors Iran's nuclear capabilities – claimed that Iran is continuing on its path to Nuclear weapons because "they don't feel real international criticism or threat".
"The international community, including Britain, has to change paradigm… and understand that we're very close to a point where there will be no return and do every effort possible in order to stop Iran's advancements in the nuclear file." said the official.
"There are a lot of tools for the international community to challenge Iran, whether it's strong enforcement of economic sanctions, whether it's challenging it in international arenas, multilateral arenas, not sending an official representation to Raisi's inauguration for example, there's so much that can be done, and not being done."
"That's a huge worry for us. And the fact that Iran feels so confident to attack ships in the way it did, that just goes to show you that they don't feel real international criticism or threat."