Politicalite was launched in April 2017 by Jordan James a then 25-year-old working-class media graduate from a forgotten working-class former mill town in the North of England, but how did a nobody from Bolton build an outlet from 'nowt?' and get a monthly audience of over 4.2m? …keep reading to find out. 
After finishing school early to visit the Opticians on the 11th September 2001… Jordan, then Aged 8 had an early insight into the power of media, and how news coverage can stop the world in its tracks. 
As he was walking past the local Dixons electrical store in his local town centre, he and his mother noticed a crowd of people had stopped from the hustle and bustle and were gathered watching the TV screens through the window.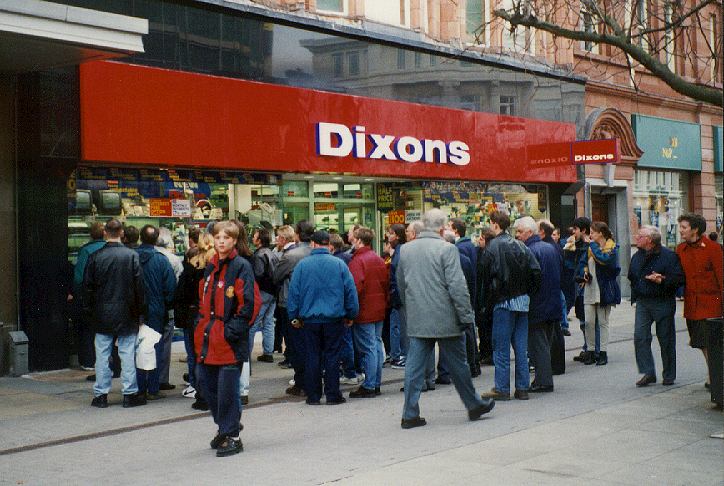 Jordan saw a glimpse of the live news coverage at a time when TV was the main source of breaking news. When he got home, He wanted to know what had happened to the two towers burning on TV as he had been dragged away from the Live-action by his Mother to get his eyes tested. From that moment on, Jordan found an interest in the news. 
Whilst most kids would watch Cartoon Network or MTV… Jordan always flicked on Sky News and BBC News 24 and would watch for hours on end, learning about the world from a little black box in the corner his Grandma's front room. He would also read the two tabloids his grandparents had delivered, The Sun and The Daily Mirror and was mesmerised by the design and story presentation. 
After leaving high-school, Jordan applied and successfully bagged an interview at the BBC's new Salford HQ… He was unsuccessful, as he could not speak*, so he enrolled in a Media Studies course at the local Sixth Form college in Salford.
Shortly after, He bagged another interview at ITV Granada. He was again unsuccessful, as he could not speak*. 
A few years later Jordan enrolled in a Media Production course backed by both Salford and Teeside University, in which he attained a degree in Media learning how to edit graphics, video, audio and produce content. His course work regularly mocked current events and he produced Spitting Image style satire that had some of his tutors laughing in hysterics. 
Despite being set-back all his life by a *Stammer, Jordan found writing as the one way he could speak without his words getting stuck, as he wrote how he would usually speak, which he believes is why Politicalite resonates and connects with everyday readers, as he understands the down-to-earth tone of the content which is key for a working-class paper. 
One tutor at Uni repeatedly criticised Jordan for his writing-style in his essays, telling him to "stop writing like a Tabloid-journalist!", but ever the rebel, he realised a skill he did not even know he had, and continued to make his course-work even more bombastic. 
Following his time at Uni, Jordan dropped out of an additional Television Production course at Salford Uni in late 2016 and used his student loan to flew to New York, the very place that started his interest in the Media.
At the time, Donald J. Trump was days away from being nominated as the Republican Nominee. Jordan could see the difference between what people were saying on social media and what the British and American mainstream media reported. 
This is when brainwave for Politicalite came, he realised that there could be an online outlet for the underclass and working-class, that actually said what they all were thinking.. as that's where most picked up and shared information. 
During his time in America, Jordan watched US TV and was mesmerised by the fast-paced brashness of the news broadcasts. In the UK news was dull and boring, in the states it was a non-stop "Entertainment Show". 
Jordan also picked up copies of The New York Post and enjoyed the punchy headlines and bold journalism that was easy to read.
He also visited NBC's Studios at 30 Rock and witnessed NBC broadcasts such as Saturday Night Live in-action.
On his return to the UK, Jordan James was unable to get into the door of the snooty Fleet Street media landscape, despite bagging interviews at the BBC and ITV, So, he set up his own outlet and so far, the site has reached around twenty million people across the globe and in the past 28 days the site has been read by over 3.5m. 
He covered The 2017 General Election, met Prime Minister Theresa May, met the former Labour leader Jeremy Corbyn and covered the Manchester Arena Bombing, the rise of the so-called 'far-right' and UKIP – as viewed by the working-classes, reported on the European political tour for the controversial Right-Wing activist Tommy Robinson, and has also broke dozens of scoops on censorship and has helped make working-class Britain Britain AWAKE on Politics. 
Shortly after launching Politicalite he was fast-tracked to Apprentice-style interviews at The Sun in 2017 as part of the Newspapers -yearly Apprenticeship Scheme, and instead of impressing the bosses, he creeped around snapping pics like a long-lense Paparazzi, trolled the Editor claiming that Elton John had written something career-ending on Twitter and then earwigged close to the Showbiz desk in which Dan Wooton was sat upon 'a throne-like desk' with his court of fabulously dressed women editors.  
Later that day, he wrote his first proper scoop… "Exclusive story "INSIDE THE SUN" – praising the outlet and busting the myths that the paper was an evil right-wing empire. He then made it his mission to make his own outlet work and beat the paper that once inspired him. 
Today, Politicalite is one of the UK's fastest-growing independent populist news outlets and in September 2020 Politicalite.com had over 4.2 MILLION views on Twitter alone. 
Due to our working-class roots and controversial subjects we have covered, we've been defunded numerous times, We survive thanks to our readers who donate to keep us online. It's not been easy either, we've been falsely branded as 'far-right' and even 'racists' by left-wing campaign groups. This is despite our founder and Editor, Jordan James being of mixed-race British and Jamaican heritage.
So what does Politicalite try to do for YOU?
Well, we try to put the working-class people and their views first, and always try to report the news with the working mans (or woman's) stance.
We also like to challenge the left-wing narrative with alternative opinions to improve the debate.
We sometimes appear controversial and a little edgy, but we never mean any harm and welcome all political views, races, religions, genders and sexualities to Britain.
WHO DOES POLITICALITE SUPPORT?
We are a proudly impartial populist website that supports the working-class people.
Politicalite backed the silent majority of forgotten working-class men and women from across the UK. We backed Britain's vote for Brexit and America's vote for President Trump until a violent insurrection by a minority of far-right extremists in Washington, DC. 
We describe our political views as "populist" and give fair coverage to all politicians from all parties, the truth comes first no matter our political affiliation.
WHO FUNDS POLITICALITE?
We are a commercially funded operation funded by reader donations, investments and advertisements, we have no financial links to any political party.
THE POLITICALITE MISSION
EST, APRIL 9th 2017
Politicalite has a mission to backs the working-class people. We support the Governments Northern Powerhouse Strategy, Poverty Eradication, Working-Class Representation, Better Gypsy and Traveller Rights, Free Market Capitalism, Gay Rights, Personal Freedoms and Freedom of Speech which is why we took a fairer line on controversial figures such as Tommy Robinson, who we feel once represented a vast majority of the underclass and working-class British people following the failure of Former PM Theresa May, despite us not agreeing with what he had to say.
To provide a platform for undiscovered non-mainstream writers and citizen journalists.

To make sense of the crazy political revolution that is Populism.

To give a voice to the silent majority

To say what the mainstream media refuse to say.

To expose slimy politicians, celebrities, public figures and those that mislead the electorate.

To give a platform to those who are denied free speech, even if Politicalite doesn't agree with what they might have to say.

To get Britain ENGAGED in Politics.
SOCIAL
If you want to stay updated with Politicalite follow on TWITTER
WRITE FOR US
We are ALWAYS looking for new writers and bloggers to join our team, it doesn't matter your background or political views, – if you have passion and engaging, down-to-earth style of writing, we WILL accommodate you and help you grow.
Contact us with a short submission and we will get back to you.